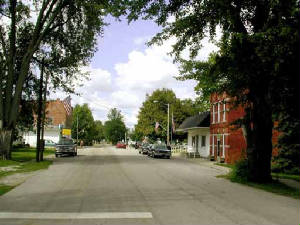 Superior Street in Orestes looking north
The church bell was recorded by Robert Mittendorf as the Orestes Baptist Church signaled the community, church would be starting in 30 minutes. The bell has been rung as long as I can remember and I enjoyed the thrill of ringing it as a child.
Orestes is a small pleasant neighborhood in Indiana's heartland and is the home of a historic white oak tree, the best tasting tomato products in America and some of the friendliest people in the world. Originally named Lowry Switch, the hamlet sprouted from a railroad crossing and the woodlands and farm fields of Nathan Lowry. Postal confusion forced the community to change the name and after deliberations among townsfolk, the name Orestes came to the forefront. Nathan and Ellen McMahan lived in the countryside north of the community and were proud parents of a son, Orestes McMahan, born on Christmas day 1876. The name Orestes was uncommon and was adopted as the new name of our town.
A very special thanks goes out to fine folks of Orestes and nearby countryside for the great photographs and amusing tales of their families and community long ago. Without their offerings a big part of Orestes history would have been lost. Ask your more senior relatives and friends for a fine story today and lend your best ear.
Fort Wayne Trace - David Dwiggins
Fort Wayne Trace - Stephen Jackson